I am linking up to hoo are you with some answers about myself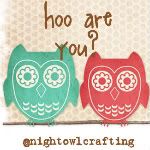 1. Do you wear glasses or contacts, if so for how long?
I have never worn glasses or contacts in my life
2. What was your favorite board game as a kid?
Candy Land
3. What is a word that you use all the time?
awesome
4. What is your favorite day of the week?
Saturday because there is no classes or work and won't be the next day either
5. Did you graduate high school from the town you grew up in?
No I graduated from Lasalle Peru high school in Lasalle Peru and I grew up in Glen Ellyn